Parsons: I'm in a profession that retires you
Nicholas Parsons says it's the "wonderful frissance in the air" that keeps him coming back to the Edinburgh Festival and Fringe.
At 93, he's one of the oldest entertainers to have performed here and this is his 17th year of hosting a show.
His younger rivals might not have to nap quite so much, but can they claim to have been at the very first festival 70 years ago?
"I have Glasgow connections," Parsons told Sky News.
"I spent five years on Clydebank trying to be an engineer to please my family but I didn't want to.
"All I ever wanted to be was an actor.
"There were about three or four shows I think on the fringe then, 1947, was it?
"Anyway, I was at the very first Edinburgh Festival watching shows up here."
Seven decades later and Parsons has become one of the most popular sightings at the festival.
Aside from having to contend with the cobbles using a walking stick, he has no end of fans who stop him to say hello.
He'll pose for photos, but selfies which "make you look awful" are a no-no.
There is a great deal of affection for the veteran entertainer.
Tickets to his 'Happy Hour' sold out almost straight away.
He describes it as "a combination of stand-up, ad-libbing with the audience, and also having guests".
As long as the public still find him funny, he said he'll keep coming back.
"I'm in a profession that retires you," he said.
"Once I can no longer do it, don't make the audience laugh, can't get on the stage, I'll be retired, but as long as you can do it they'll employ you."
So what's Parsons' secret to staying young?
"Keep moving, keep using your brain.
"If you use your brain, that helps to keep you younger…You've got to laugh at yourself as well."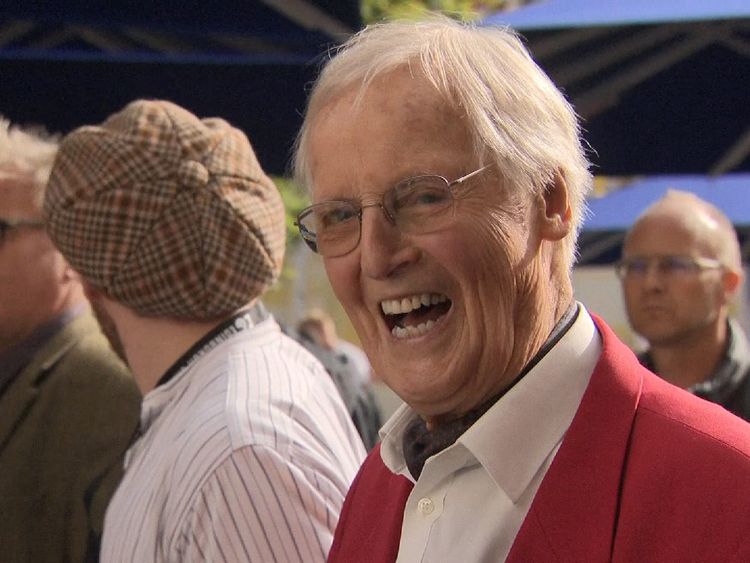 Parsons started out as a serious actor before moving into cabaret and stand-up in the 50s.
It wasn't long before his skills as a comedy straight man were spotted and, by the 60s, he'd moved into television working with comedian Arthur Haynes.
Throughout the 70s he hosted the long-running TV quiz Sale Of The Century and December will mark his 50th year hosting the BBC Radio 4 game show Just A Minute.
Despite being a household name, Parsons likes to joke about how he isn't always recognised now that he's getting on a bit.
"In the cabaret bar here, the queue stretches out into the Pleasance Courtyard… we have to go in and get it set up and I was standing (near the front) and a man said 'pal, hey pal! This is a queue you know? Get to the back like everyone else!'.
"Then his girlfriend said 'shhh that's Nicholas Parsons…'.
"He said 'I don't give a s**t who it is – he can still queue up like everyone else!'"
The Edinburgh Festival and Fringe continues until 28 August.
Entertainment News – Latest Celebrity & Showbiz News | Sky News